10 Industries Benefiting from Blockchain Applications
In the past few years, the keywords "blockchain technology", "blockchain application" have exploded on search engines. Blockchain is a rare, previously undiscovered mineral, when people began to exploit its huge potential, it quickly became a global craze.
From NFT games to cryptocurrency, all the terms you catch up with every day in the latest news are blockchain applications. With outstanding features such as Inviolability, Immutable, Data security, and Smart contract, blockchain will definitely disrupt the traditional management process of companies and radically alter all aspects of the world.
Here are the top 10 industries that will benefit the most when applying blockchain technology (I have referred to scientific articles and technology news sites around the world).
Gaming
The gaming industry has seen dramatic changes. I still remember playing Super Mario on a 16-bit gaming console on a flip Samsung phone about 10 years ago. Up until 4 years ago, the NFT game Axie Infinity was globally well-known.
The application of blockchain in gaming has the most obvious results at the moment. There are thousands of games that have applied blockchain technology, allowing players to safely own, buy and sell NFTs released in the game, and participate in many different games with an already owned NFT…
Blockchain optimizes the experience of game players, bringing outstanding features compared to traditional games. It's the reason why many traditional game production companies have also changed their direction.
An NFT in a game can be a sword, a bow, a shield, a staff, or a portion, for example. NFTs are one-of-a-kind, unforgeable, and may be transmitted to a wallet address much like currencies. In an NFT game, the player has absolute and perpetual ownership of the NFT, even if the game you're playing stops working. You can switch to other blockchain platforms in the metaverse.
Enhancing the ownership of in-game assets
In a blockchain-based game, smart contracts are utilized to handle all transactions. Smart contracts run on pre-programmed parameters and are irreversible. Aside from that, they are operated without the involvement of a central authority. No one can change the public address where the in-game assets are stored, and no one can replace the ownership of those assets in private. They will remain the property of the game player who owns them.
You can earn extra income, daily rewards, create flexible earning opportunities, especially during pandemic outbreaks with blockchain gaming. When players join the Piratera game, they only need to spend a minimum of $10 to build a line-up (minimum 1 sailor), then join the battles, earn PIRA and other rewards. Players can absolutely earn $50 per day by playing the game. A great chance for gamers.
In each NFT game, a coin is issued, called local crypto tokens, which are used to make payments, resulting in a better transaction experience. The collaboration of cryptocurrency with video games in this way can improve payment possibilities for gamers.
Enhancing investment opportunities
Before the game's release, investors who see a potential project can participate in a private sale (a round of selling tokens to a small group of people before the official token release on the decentralized exchange – IDO). It is quite like investing in stocks, but when blockchain technology is applied, every transaction becomes clearer, more transparent and participants' information is absolutely confidential. This investment opportunity is not limited by border, region, and religion.
To keep up with the world's evolution, traditional game companies should act quickly. Because NFT games have distinct benefits and are improving in terms of graphics and gameplay to compete with mobile games, they are becoming more and more flawless. The transformation is not difficult in the context of evolving technology at the present. Your business just needs to hire a blockchain outsourcing team to advise and implement the project and learn from the experience for the following one.
Travel/Tourism
The travel and tourism industry stands to gain the most from this expanding class of investors who seek highly tailored services facilitated by the usage of popular cryptocurrencies as legal tender.
Despite globalization, obstacles in the tourist and travel business persist, according to Cindy Tran, Co-Founder, and Chairwoman of LynKey, who believes that blockchain and NFT technology may address and fix these concerns.
"Most global travelers or property buyers have to deal with local currencies, lack of transparency in buying or leasing property and timeshares, and losing money to high exchange fees or worse. Furthermore, travelers cannot personalize their travel experiences, modify, sell, or cancel their 'trips'. Planning to travel or searching to lease property may be digital, but the rest of the process certainly is far from seamless or perfect with conventional models of tourism and travel. A consolidated marketplace and token solution will solve many of these issues,"
As a technology, Blockchain will allow tourism-focused businesses to facilitate crypto transactions in place of services, build effective loyalty programs that reward their customers, and even tokenize physical assets like resort spaces in the form of Non-fungible Tokens (NFTs).
When blockchain technology is used, issues such as releasing booking information, purchasing tickets on service websites, and paying for overseas excursions would become outdated. When traveling overseas, blockchain will improve time, cost, payment procedure, and easy purchasing and selling while preserving perfect security of information for each journey.
Supply Chain/Retail

Let's imagine you ordered food, had it delivered, and then found it terrible. Blockchain technology can track all of the phases of the supply chain. The owner of the company from whom you ordered it might go back through his blockchain record and figure out where the order went wrong in the supply chain, causing you to be dissatisfied.
The following are advantages that blockchain supply chain innovations can provide:
Primary potential benefits
Increase the traceability of the material supply chain to ensure compliance with company requirements.

Lower losses from gray market/counterfeit trading

Reduce paperwork and administrative costs by improving visibility and compliance with outsourced contract manufacturing.
Secondary potential benefits
Enhance the company's reputation by making the materials used in products transparent.

Increase the legitimacy and public trust in the data that is given.

Reduce the danger of a public relations disaster as a result of supply chain errors.

Participate in discussions with stakeholders.
Alibaba, the Chinese e-commerce giant, was one of the first companies to utilize blockchain. It has used this technology to combat food fraud, encrypt medical data, and trace cross-border shipments, for example. Alibaba adopted it to track information in its cross-border logistics operations through its subsidiary Lynx International. Their system now has an immutable record of shipping data, including production details, transportation, customs, inspection, and any third-party verification. As a result, blockchain proved to be the best answer for them.
The successful always know how to seize opportunities before others. The giants in this sector such as Maersk, Walmart, Zim… have adopted blockchain into their management systems. Does your business want to stay out of this landscape?
Just answer yourself!
Education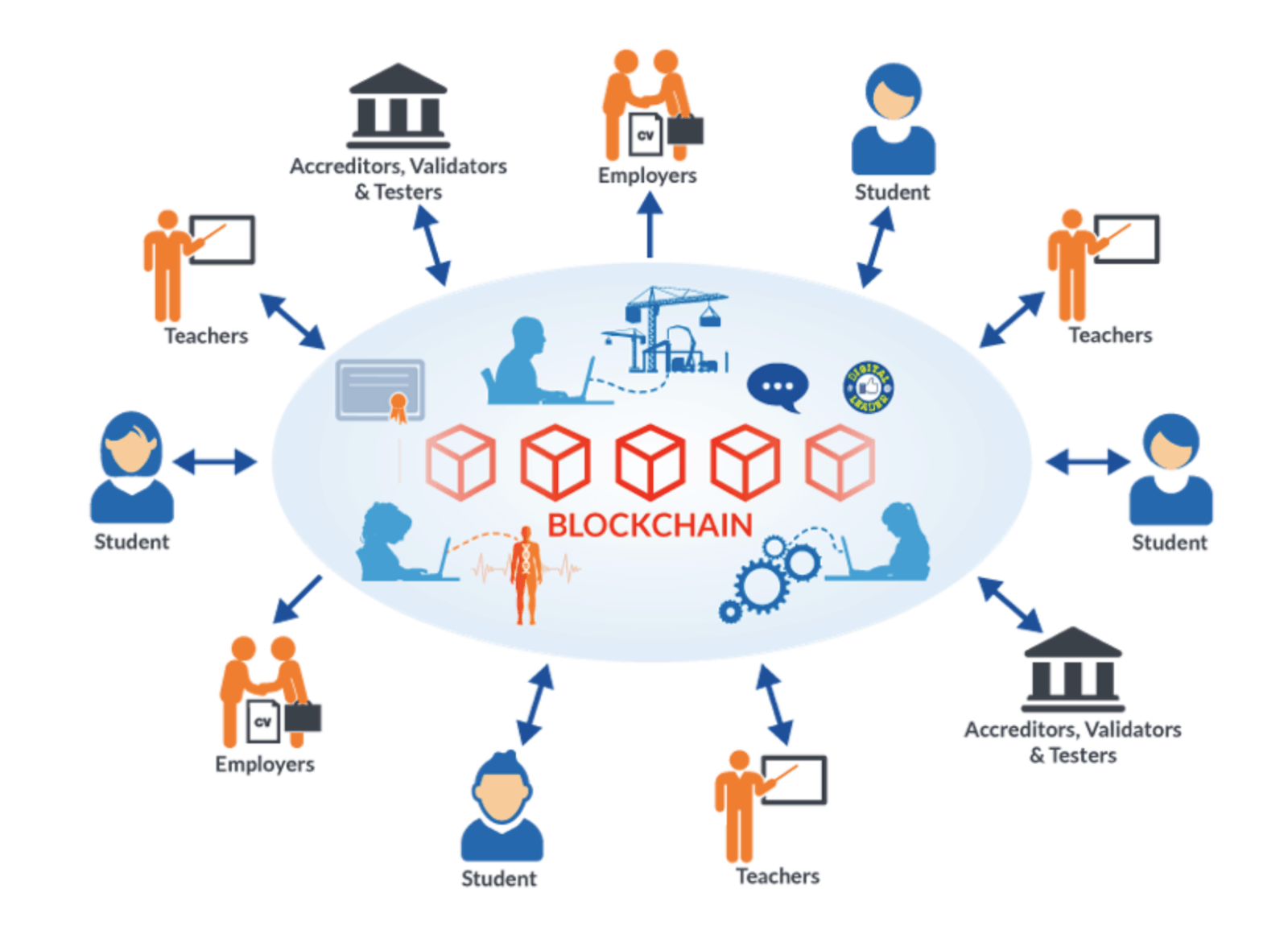 It is really simple to do using blockchain in the education sector, and it has a wide range of consequences. Not only transcript data, but also individual training, practical experience, and recruitment history are all maintained on the blockchain.
I collect a variety of applications in the educational sector:
Degree fraud is a major problem in the educational business, and blockchain ledgers can help. The establishment of a decentralized ledger can create an indelible record of each student at a certain institution, their grades, and any certificates they have obtained.
Certification Verification
Certifications granted by online educational organizations, particularly those who offer MOOCs (massive online open courses), can also be verified using blockchain.
Furthermore, blockchain has the potential to eliminate plagiarism. It is still a serious problem in academic institutions of all types, despite the introduction of popular plagiarism checkers such as Grammarly and Turnitin.
Reducing Educational Expenses
For colleges and universities, Blockchain may be able to reduce the cost of various expenses related to record-keeping, accounting, and accreditation, potentially allowing schools to reduce tuition prices by preventing the hiring of unnecessary employees or even allowing institutions to cut their staff.
Blockchain technology can be utilized to develop solutions that can be used to replace traditional student loans.
We can expect to see more innovative and interesting methods for blockchain to change education by lowering prices and extending educational possibilities in a variety of ways.
Cyber Security
With the introduction of 5G networks, download speeds will significantly rise, providing more opportunities for hackers to exploit security flaws. Faster download speeds will encourage larger cyber crimes as well.
So following you, what is blockchain's role in Cybersecurity?
Because blockchain technology is a more secure alternative to end-to-end encryption, it may be utilized to create a uniform security protocol. It can also be used to protect private messaging by building a unified API architecture that allows for cross-messenger communication.

With ever-increasing amounts of data being generated every day, keeping data in a centralized manner exposes it to the risk of a hacker exploiting a single vulnerable point. It will be practically hard for criminals to gain access to data storage systems if data is stored in a decentralized form using blockchain.

Patches, installers, and firmware updates may all be verified using blockchain technology.

By employing encryption, blockchain technology can be utilized to safeguard data from illegal access while it is in transit.
Cybercrime is the greatest threat to enterprises and blockchain technology could go a long way in fighting it.
Read Part 2 to discover more…
If you are an individual or a business who is in need of detailed advice on the application of blockchain to your management, please contact us immediately via:

Website: arcanictech.com

LinkedIn: linkedin.com/company/arcanic-tech

Facebook: www.facebook.com/Arcanictech

Email: arcanic.technology@gmail.com

Hotline: +84326105880

Arcanic is a blockchain outsourcing company that offers all-in-one services. For enterprises and start-ups, we're specialists in the blockchain ecosystem, Dapps, smart contracts, and more.